Hello everyone! I'm back today with a review of ROAR, the book I got in my FairyLoot box back in June. You can check out my unboxing post/review of the box
here
.
It took me FOREVER to get around to reading this book, but I'm super happy I finally did! I read it in one sitting, which certainly tells you something about how engaging the story is.
There are slight spoilers in this review (for the first third of the book), so be warned!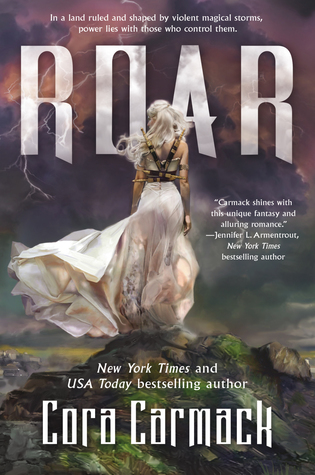 ROAR is by Cora Carmack. I've never read anything by her before (probably because this is her first YA novel, although is she a very established Adult author), and while I don't think her Adult books are my sort of thing, I am definitely open to reading more of her YA stuff and I can't wait to read the second book in the Stormheart series.
So, you might be wondering, what is ROAR about?
Aurora (or, as she's sometimes called, Rora) is the princess of Pavan, a sort of city-state in the lands of Caelira where magical, somewhat sentient storms threaten the destroy pretty much everything. Supposedly the only thing that can stop the storms are Stormlings, people who are born with magical powers to battle them.
As queen, Aurora's job will be to fight of the storms that threaten Pavan. The only problem? Aurora doesn't have a drop of Stormling magic. In order to keep her lack of power secret and keep the throne, she agrees to marry the prince of another city-state who is rumored to be extremely powerful.
But she soon learns that the prince she's planning to marry has his own agenda and the things she thought she knew about Stormlings and magic aren't quite true. There's a way for Aurora to become a Stormling--if she's just brave enough to take it.
I have to admit that the plot of the book is pretty straightforward.
Anyway, onto the review!
First and foremost, I think it was the characters that I liked the most. Rora is multidimensional, and I liked that the author made her reactions to things feel natural. Cassius, the prince she's betrothed to marry, is my favorite character by far. He has a Draco Malfoy thing going for him, and the way he thinks is really interesting. I hope that I'll get to see more of him in the second book!
I also liked that the author dipped into the heads of multiple characters. While Rora is certainly the main character, I loved reading scenes from different perspectives, and it did a good job adding conflict to the story.
The writing style feels like fantasy but is also very accessible, which makes it an easy read for people who aren't huge fantasy fans. There are moments when the writing style feels more contemporary, but that only brought me in closer to the story.
ROAR works to set the stage for the sequel, and I could definitely tell that was the case when I was reading it. It felt like not enough happened. In a way, I almost feel like its 378 pages could have been condensed to 200 and then the reader (aka me) could have seen more happen.
I also felt like the magic could have been better defined. I'm not quite sure what the rules are or if there are any. I think this is partially because Rora is learning about the real state of magic, but as a reader, it bugged me not to know what was possible and what wasn't.
Overall, it was a great read, and I feel like I trust FairyLoot's taste in books a little bit more now. A solid our stars.