I'm usually not the grumble-y type, but I am quite annoyed with the Google accounts set up right now. I have WAY too many email addresses--I'll be the first to admit that--but I hate how difficult they make it for me to switch between them. Grrr.
Anyway, now that I've gotten that out of my system, let's move on to today's review!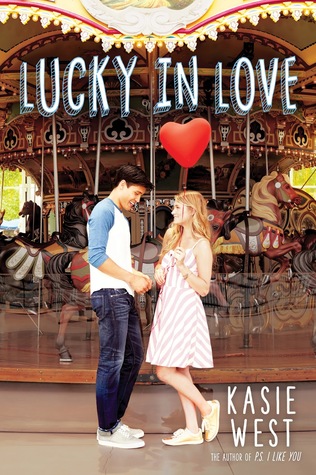 YES! IT'S KASIE WEST'S NEW BOOK! Have I ever mentioned how much I love Kasie?
I'm a little short on time, so I'm going to copy/paste the summery from Goodreads (sorry).
Can't buy me love…
Maddie's not impulsive. She's all about hard work and planning ahead. But one night, on a whim, she buys a lottery ticket. And then, to her astonishment—
She wins!
In a flash, Maddie's life is unrecognizable. No more stressing about college scholarships. Suddenly, she's talking about renting a
yacht
. And being in the spotlight at school is fun…until rumors start flying, and random people ask her for loans. Now Maddie isn't sure
who
she can trust.
Except for Seth Nguyen, her funny, charming coworker at the local zoo. Seth doesn't seem aware of Maddie's big news. And, for some reason, she doesn't want to tell him. But what will happen if he learns her secret?
My review:
What did I think? I LOVED IT!
I'll be completely honest. I was a little disappointed with BY YOUR SIDE and P.S. I LIKE YOU. Both books weren't bad...they just weren't as good as THE DISTANCE BETWEEN US and ON THE FENCE. I was a little uncertain of whether or not I should buy LUCKY IN LOVE since her last two books weren't my favorites.
But I am so, so glad I bought a signed copy from Hicklebee's (my favorite bookstore). Because I think this may be my new favorite Kasie West novel!
I know a lot of other reviewers weren't huge fans of Maddie, but I found her college-related attitude relatable. That said, I was really mad that Kasie stuck to popular universities like UCLA and Stanford. I'm sorry, but UCLA has an acceptance rate of 18%. Stanford's is 4.8%. Maddie is a good student, but I don't think she had the resume or exceptionality to get into those schools. (Sticking to super selective colleges is my pet peeve and the sole reason I couldn't bring myself to give this book five stars on Goodreads).
I also liked that Maddie's friends felt like real people. They were diverse, and while I didn't quite understand why she was friends with one girl, I thought there was good chemistry between them. I also really liked the love interest, Seth. I think Xander is still WAY more swoon-worthy, but Seth is pretty great.
I did feel that Maddie was a little irresponsible with her money, but I attributed that to poor financial literacy, which isn't exactly rare in eighteen-year-olds. The conflict in the story was great, and I liked watching Maddie's personal growth throughout the novel.
Seriously. Read this book. If you like YA romance, this is a great fluffy read.