I'm sorry I missed last week! I decided to do a short review of THE WRATH AND THE DAWN today. I'm setting it up a little differently, so let me know what you think of the more casual review style in the comments!
Here's the cover with its interesting overlay design: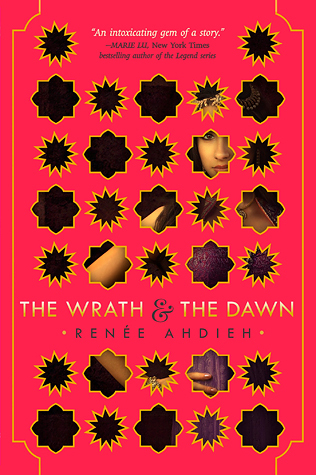 Wondering about the picture beneath? Here it is (although the proportions are slightly altered and there's writing on it):
THE WRATH AND THE DAWN's main character is Shahrzad, a girl who volunteers to marry Khalid, the Caliph of Khorasan, in order to avenge her best friend. Khalid marries a different girl each day...and her dead body is found the following dawn. But Shahrzad soon finds herself falling for the young Caliph, and as she learns more about him, she learns that he may be different than she thought.
That's my blurb for the book. Here's the one I pulled from Goodreads:
A sumptuous and epically told love story inspired by A Thousand and One Nights
Every dawn brings horror to a different family in a land ruled by a killer. Khalid, the eighteen-year-old Caliph of Khorasan, takes a new bride each night only to have her executed at sunrise. So it is a suspicious surprise when sixteen-year-old Shahrzad volunteers to marry Khalid. But she does so with a clever plan to stay alive and exact revenge on the Caliph for the murder of her best friend and countless other girls. Shazi's wit and will, indeed, get her through to the dawn that no others have seen, but with a catch . . . she's falling in love with the very boy who killed her dearest friend.
She discovers that the murderous boy-king is not all that he seems and neither are the deaths of so many girls. Shazi is determined to uncover the reason for the murders and to break the cycle once and for all.
...And here's what I thought of it!
THE WRATH AND THE DAWN is very different from a lot of other fantasy books out there. While most fantasy novels are set in a world obviously inspired by Europe during the Middle Ages, this book has a distinctly different setting. The world feels like it was inspired by the Middle East, and I loved how that gave this book a different texture.
Shahrzad is rash and not afraid to speak her mind, two common traits for main characters. While a lot of authors will give their MC these two traits for the first five chapter of their book (as long as it takes for these traits to get them in trouble) and then discard them, Renee Ahdieh (I'm sorry; I don't have an accent key on this computer) was sure to follow through. Yes, Shahrzad is rash. But she never stops being rash. And that makes all the difference.
I really liked this book, and it was a quick read. Thanks for visiting my blog and have a great day!