I sat down to write this review, and I honestly don't know where to start.
I enjoyed this book (despite its horrible cliffhanger-y ending), but I don't know how to explain why I liked it. It has an indescribable quality that I can't quite put my finger on. That said, I'm still going to try.
(Any you guys have no idea how many times I typed TRAIL instead of TRIAL. Can you tell that I'm a tad sleep deprived?)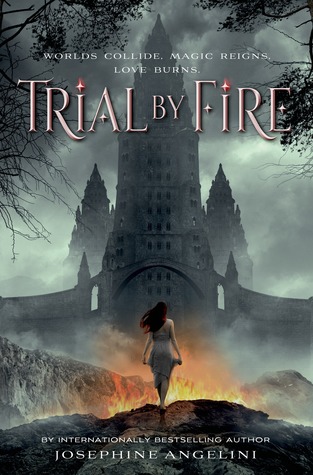 I must admit that I really like the cover. I don't think it does that great of a job reflecting the first half of the story, but it matches the second half quite well.
And on another (but similar!) note...when I was halfway through the book, the title (finally!) sank in. I'll admit that it's a good title, but I didn't like how it's also a pretty major spoiler. To be fair, I knew that the scene the title references was going to happen before I realized that the title gave it away, but it still bugged me.
My summary:
When Lily Proctor's life falls apart, a voice offers to bring her to another world. Lily takes the offer, and she suddenly finds herself in a parallel universe that's very different from the world she's used to.
This world holds opportunities for Lily that she's never dreamed of, but it's also filled to the brim with dangers she's never encountered before. She needs help desperately, but in a world where everyone wants to use her power for his or her gain, whom can Lily really trust?
Goodreads says:
The exhilaratingly seductive new series from the author of the bestselling Starcrossed series

Love burns. Worlds collide. Magic reigns.

This world is trying to kill Lily Proctor. Her life-threatening allergies keep her from enjoying many of the experiences that other teenagers take for granted...which is why she is determined to enjoy her first (and perhaps only) high-school party. But Lily's life never goes according to plan, and after a humiliating incident in front of half her graduating class Lily wishes she could just disappear.

Suddenly Lily is in a different Salem - one overrun with horrifying creatures and ruled by powerful women called Crucibles. Strongest and cruellest of all the Crucibles is Lillian . . . Lily's identical other self in this alternate universe. This new version of her world is terrifyingly sensual, and Lily is soon overwhelmed by new experiences.

Lily realizes that what makes her weak at home is exactly what makes her extraordinary in New Salem. It also puts her life in danger. Thrown into a world she doesn't understand, Lily is torn between responsibilities she can't hope to shoulder alone, and a love she never expected.

But how can Lily be the saviour of this world when she is literally her own worst enemy?
My review:
I would say TRIAL BY FIRE is somewhat similar to Sarah J. Maas's books. The writing style is completely different, but it's alike in the format of the story. The book is told mostly from Lily's perspective, but we do get scenes from other points of views throughout the story.
I'm not sure if I like Lily or not. I'm definitely on her side, but she comes off as shallow and as more of a damsel in distress than a strong character who can hold her own.
I did really like the world. It felt well developed and I liked the small details that Angelini worked into the story. Another plus: the reader was given enough information so that he or she never feels confused.
TRIAL BY FIRE's plot isn't straightforward, but it's easy to see through if you pay attention. I wish the clues dropped throughout the book hadn't been so obvious. This was one of those books that I wanted to surprise me.
Overall, I would give TRIAL BY FIRE 4 stars out of 5.