As you may know, I'm a HUGE Sarah J. Maas fan. Her ability to create such vivid worlds characters is simply phenomenal. I was recently browsing the shelves of my bookcase and jotting down ideas for future reviews when A COURT OF THORNS AND ROSES caught my eye. That's when I realized that I hadn't reviewed this book and set out to fix my grave error.
Sarah J. Maas's covers are breathtakingly amazing, and this one is no different. Take a look: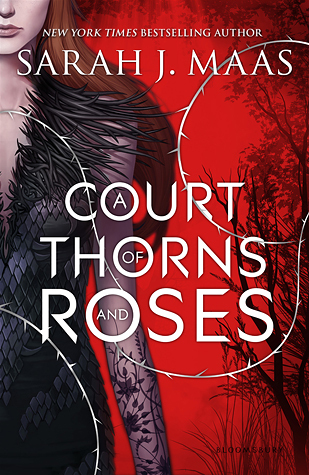 Isn't it gorgeous?
A thrilling, seductive new series from New York Timesbestselling author Sarah J. Maas, blending Beauty and the Beastwith faerie lore.
When nineteen-year-old huntress Feyre kills a wolf in the woods, a beast-like creature arrives to demand retribution for it. Dragged to a treacherous magical land she only knows about from legends, Feyre discovers that her captor is not an animal, but Tamlin—one of the lethal, immortal faeries who once ruled their world.
As she dwells on his estate, her feelings for Tamlin transform from icy hostility into a fiery passion that burns through every lie and warning she's been told about the beautiful, dangerous world of the Fae. But an ancient, wicked shadow grows over the faerie lands, and Feyre must find a way to stop it... or doom Tamlin—and his world—forever.
Perfect for fans of Kristin Cashore and George R. R. Martin, this first book in a sexy and action-packed new series is impossible to put down!
My review:
First of all, the book is great. Absolutely wonderful. That said, this book is definitely different than the THRONE OF GLASS books. The focus is more on the romantic relationship between Feyre and Tamlin. That isn't to say there isn't any adventure or action—in fact, you'll find plenty of both—but the book is more of a romance novel than it is an epic story of adventure (which is how I usually describe the THRONE OF GLASS series).
The romance is on the grittier side, and I would probably recommend it to older YA readers.
I can see how someone who had never read any of Sarah J. Maas's work might be a little turned off by some of it, but if you've read some of her work (or
GRACELING
) and loved it, than I would definitely recommend A COURT OF THORNS AND ROSES.
I liked Feyre's point of view. At the beginning of the book and when she's put to the test (sorry, I'm trying to be vague!), I found that her voice sounded a little like Katniss's. However, where Katniss was weak and a whiner, Feyre keeps moving and doesn't let anything stop her. And I really liked that about her character.
I found that some of intricacies of the faerie realm weren't explained as well as I wanted them to be, but other than some minor confusion regarding Feyre's reaction in certain scenes, it didn't really bug me.
Sarah J. Maas works her magic again! 4 stars out of 5!