Hello! I have a recent YA read to share with you.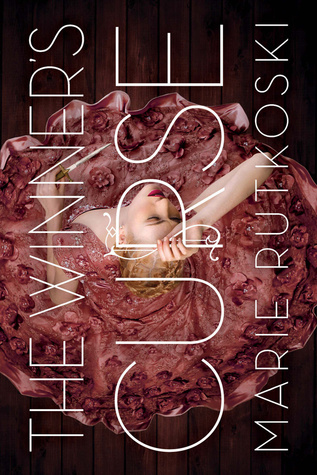 THE WINNER'S CURSE is by Marie Rutkoski. You can check out her author website
here
.
For those of you who have checked out
my Goodreads account
in the past six months, you will know that this book has been on my TBR shelf for a loooong time. I'll admit it: the cover, rather than the blurb, caught my eye.
I have already read THE WINNER'S CRIME, so there will be some references (but no spoilers!) regarding the sequel.
My summary:
Kestrel has always been able to see through lies. The daughter of one of the most celebrated Valorian generals, she has lived the upper-class life. Pulled between two unsavory options-- marriage or enlistment-- Kestrel's life is complicated and full of expectations.
Drawn to a slave, she purchases him for an absurd sum. As she grows close to Arin, she begins to second-guess her life and choices. But in a world of silent wars and high stakes, Kestrel learns that everything comes with a price.
Goodreads says:
Winning what you want may cost you everything you love...
As a general's daughter in a vast empire that revels in war and enslaves those it conquers, seventeen-year-old Kestrel has two choices: she can join the military or get married. But Kestrel has other intentions.
One day, she is startled to find a kindred spirit in a young slave up for auction. Arin's eyes seem to defy everything and everyone. Following her instinct, Kestrel buys him—with unexpected consequences. It's not long before she has to hide her growing love for Arin.
But he, too, has a secret, and Kestrel quickly learns that the price she paid for a fellow human is much higher than she ever could have imagined.
Set in a richly imagined new world,
The Winner's Curse
by Marie Rutkoski is a story of deadly games where everything is at stake, and the gamble is whether you will keep your head or lose your heart.
My review:
The world is very interesting, and I enjoyed learning about the different cultures. I think more information regarding the punishments for rebels and traitors would have helped raise the stakes for our main characters later in this book and THE WINNER'S CRIME.
I also really liked the writing style and the fact that we get to see both Arin and Kestrel's points of views.
There is a lot of parlor talk and less action than I would have expected. Personally, I enjoy seeing the different interactions, but for readers who are looking for something fast-paced, this isn't a book I would recommend.
Kestrel's "ability" to see through lies and easily find the truth seemed to disappear and reappear throughout the book. I wish it had been used more often.
I felt Arin's character needed more development. I wanted to learn more about Arin's life before the invasion. The reader does get hints in this book and in THE WINNER'S CRIME, but it's not enough for me to feel satisfied. I also think his character could have been more complex if he felt guilt for living when so many died.
Overall, I would give it 3.5 stars