Before we begin, I wanted to send out a big THANK YOU to all of my readers in honor of my hundredth post! You guys are amazing!
*clears throat* Now to the review!
I'm kind of behind when it comes to Kasie West's newest book, THE FILL-IN BOYFRIEND. I picked up this beautiful book today and just finished it, so there will be some slight variations due to my mind still being stuck in Gia's world.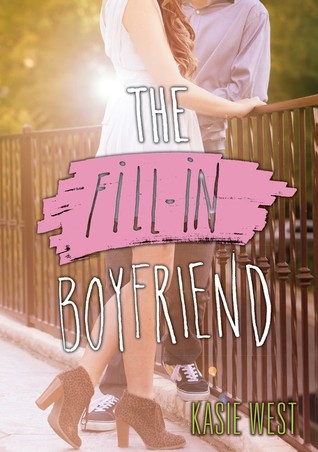 Goodreads tells us:
When Gia Montgomery's boyfriend, Bradley, dumps her in the parking lot of her high school prom, she has to think fast. After all, she'd been telling her friends about him for months now. This was supposed to be the night she proved he existed. So when she sees a cute guy waiting to pick up his sister, she enlists his help. The task is simple: be her fill-in boyfriend—two hours, zero commitment, a few white lies. After that, she can win back the real Bradley.
The problem is that days after prom, it's not the real Bradley she's thinking about, but the stand-in. The one whose name she doesn't even know. But tracking him down doesn't mean they're done faking a relationship. Gia owes him a favor and his sister intends to see that he collects: his ex-girlfriend's graduation party—three hours, zero commitment, a few white lies.
Just when Gia begins to wonder if she could turn her fake boyfriend into a real one, Bradley comes waltzing back into her life, exposing her lie, and threatening to destroy her friendships and her new-found relationship.
My review:
As you all know, I love Kasie's romance novels! I've been looking forward to this books since she told me about it in my November 2013 interview with her!
I watched CLUELESS last night for the first time in years, and I found that there are some similarities between the two plots and characters.
I really liked how Gia wasn't the usual popular mean girl. As the reader, I felt loyal to her and stayed on her side, even when her actions were less than commendable. Gia's journey was quite interesting, and I got to see quite a bit of change take place.
Gia shares a strained relationship with Jules, a girl who recently joined their friend group. Jules seems to enjoy vocally sparing with Gia. Claire, who is the close to Jules, drops multiple hints about Jules' rough home life and poor relations with her mother. However, Jules' problems is never explained in more detail, and the reader isn't given a clear reason regarding why she pokes at Gia in the manner that she does. I wish this was explained in greater detail and there was a more definite feelings of closure.
As with most of Kasie's books to date, this is a love story. The guy, whose name I will not share because of a spoiler-y reason and will therefore call FIB, is very well done. Tall with "dreamy" blue eyes, FIB plays his part very well. He is an actor, and I wish that I could have seen more of his acting, perhaps watching him preform in a show rather than just him practicing.
THE FILL-IN BOYFRIEND is more complex than Kasie's other books. The relationships are constantly in flux, and it feels as if the book's characters have their own lives, existing and living even when they aren't in the spotlight. The characters really power the plot and bring it to new places. Unfortunately, some of the characters are a little annoying at points.
I would definitely recommend it to people who are looking for a sweet love story.
3.5 out of 5 stars