I've returned to share a recent YA read with you!
I borrowed an early copy of this book from a friend, so please keep that in mind when reading this review!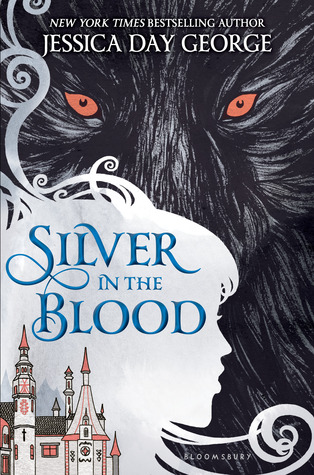 I am a casual fan of Jessica Day George. I really enjoyed DRAGON SLIPPERS, but I had trouble with WEDNESDAYS IN THE TOWER. I didn't realize SILVER IN THE BLOOD was by Jessica until I was about halfway through.
There are a few spoilers in both summaries. Nothing more than one would find on the book's jacket, but I thought you deserved a warning.
My summary:
Hailing from some of the most fashionable and well-known families in New York, socialites Dacia and Lou are excited to travel Europe. But Europe is very different than the parties and Parisian gowns they imagined. There's an odd man trailing Lou, and Dacia, facing consequences for her shenanigans in London, is stuck in Romania alone and happens to be quite bored.
But they go from the frying pan into the fire. Confronted with a dark family secret, Lou and Dacia are thrown into a dangerous plot that screams treason and murder. Together, the cousins battle their own family in a desperate attempt to discover a different future for themselves.
Goodreads says:
A New York Times bestselling author brings dark secrets to life in a lush new YA perfect for fans of Libba Bray or Cassandra Clare.
Society girls from New York City circa 1890, Dacia and Lou never desired to know more about their lineage, instead preferring to gossip about the mysterious Romanian family that they barely knew. But upon turning seventeen, the girls must return to their homeland to meet their relatives, find proper husbands, and—most terrifyingly—learn the deep family secrets of The Claw, The Wing, and The Smoke. The Florescus, after all, are shape-shifters, and it is time for Dacia and Lou to fulfill the prophecy that demands their acceptance of this fate . . . or fight against this cruel inheritance with all their might.
With a gorgeous Romanian setting, stunning Parisian gowns, and dark brooding young men, readers will be swept up by this epic adventure of two girls in a battle for their lives.
My review:
I have not personally been to Romania or researched the 1890s in great detail, so I can't judge Jessica's accuracy in either area. However, I can say that this is novel has a perfect amount of both mystery and adventure. The writing style complements the attitude of the time. There are a lot of little details that add a lot to the story.
The plot is very interesting. It did take a while for the family secret to be revealed. This pacing allowed the mystery to be revealed at the right pace, but it also made the beginning a little boring. However, once you reach page 173 or so, the story picks up the pace and becomes a whirlwind.
I wish I could have seen more of Radu, their cousin. He was an interesting character, but I don't feel like all of his qualities added up.
There are letters, diary entries, and similar materials before each chapter. As most of the book is told from third person, these works allow for a first person perspective. However, I found most of them a little boring and a drag on the story. A few added to the story, but I found that they tended to hurt more than help.
Although SILVER IN THE BLOOD is not steampunk, I would recommend it to fans of Gail Carriger's Finishing School series, especially if one particularly enjoyed WAISTCOATS & WEAPONRY.
Once you get through the slow start, SILVER IN THE BLOOD is a wonderful book filled with intricate characters, excellent plotting, and a wonderful adventure.
4 stars out of 5.