Hi! Hope everything is excellent! I must admit that I am a tad bit tired, so please excuse any mistakes.
Rather than doing a MMGM, I will be finishing up my chain of reviews on the THONE OF GLASS novels with HEIR OF FIRE, the third book in the series. My reviews for the
first book
and
second book
are also available, and I recommend reading them before you read this review.
Once again, I want to warn that
there will be spoilers for THONE OF GLASS and CROWN OF MIDNIGHT.
I tried to keep this post pretty light on the HEIR OF FIRE spoilers, but as a sequel, it is impossible not to leak a few things from the first two books.
This is your final warning, as you are now entering THRONE OF GLASS and CROWN OF MIDNIGHT spoiler zone!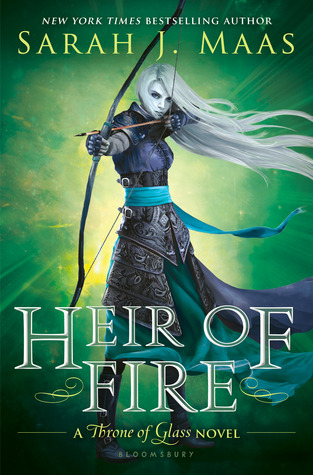 I'm going to skip the writing my own summary this time. I apologize for any inconvenience!
Goodreads tells us:
Lost and broken, Celaena Sardothien's only thought is to avenge the savage death of her dearest friend: as the King of Adarlan's Assassin, she is bound to serve this tyrant, but he will pay for what he did. Any hope Celaena has of destroying the king lies in answers to be found in Wendlyn. Sacrificing his future, Chaol, the Captain of the King's Guard, has sent Celaena there to protect her, but her darkest demons lay in that same place. If she can overcome them, she will be Adarlan's biggest threat – and his own toughest enemy.
While Celaena learns of her true destiny, and the eyes of Erilea are on Wendlyn, a brutal and beastly force is preparing to take to the skies. Will Celaena find the strength not only to win her own battles, but to fight a war that could pit her loyalties to her own people against those she has grown to love?
My review:
I must say, this is my favorite THRONE OF GLASS novel yet! In past books, Sarah Maas has focused on Celaena with a few smaller scenes focusing on Chaol and Dorian. HEIR OF FIRE is a little more epic in the way it has three very different viewpoints. We watch Celaena and Rowan as they train, Manon, a witch of the Blackbeak clan, as she receives her mount, and the going-ons at Rifthold. I really enjoyed seeing all the different points of view. It added a lot of tension, especially as I neared the end of the book.
I would like to congratulate Sarah for not splitting up the scenes. Often, authors will end chapters on cliffhangers before switching to another view in order to keep readers engaged. This never fails to drive me crazy, and I want to send a giant THANK YOU to Sarah for not engaging in those tactics.
There were lots of new characters in HEIR OF FIRE, and I loved them. They were so well-constructed and wonderful. I found that Sarah did a better job of making her very minor characters real. I look forward to seeing more of that realism in the fourth book!
I am beginning to sound like a broken record, but I can't help but praise Sarah for her phenomenal job making Celaena seem like a real person. Celaena had to come to terms with some very difficult things in HEIR OF FIRE, and I loved how Sarah continues to make her insecurities and demons part of her. Celaena has a lot of issues, and I am glad they weren't glossed over.
As for the plot, HEIR OF FIRE is a wild ride. So much is happening, especially with all the viewpoints, and Sarah does a good job of constructing each part of the story.
Awesome. Excellent. Superb. HEIR OF FIRE is all of those things. In fact, it is so good that I would read THRONE OF GLASS and CROWN OF MIDNIGHT just so I could get the full experience out of HEIR OF FIRE. After reading HEIR OF FIRE, my expectations for the fourth book are high, and I can't wait to get my hands on it!
Worthy of five stars out of five.