I did promise.
If you remember
way
long ago (aka back in November last year) I did a huge long post on some of Kasie West's stuff, including a bit on two books that would be coming out "soon". If you missed it and want to see it, hop on over
here
.
Filling in my handy-dandy quick review form, we have...
Title: ON THE FENCE
Author: The lovely Kasie West
Cover: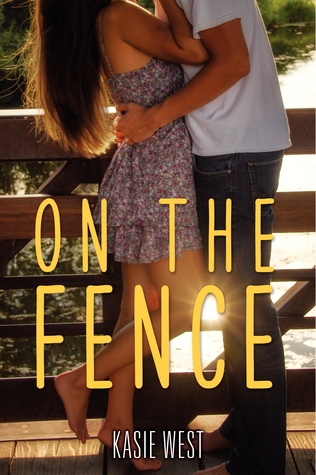 Goodreads says:
For sixteen-year-old Charlotte Reynolds, aka Charlie, being raised by a single dad and three older brothers has its perks. She can outrun, outscore, and outwit every boy she knows—including her longtime neighbor and honorary fourth brother, Braden. But when it comes to being a girl, Charlie doesn't know the first thing about anything. So when she starts working at chichi boutique to pay off a speeding ticket, she finds herself in a strange new world of makeup, lacy skirts, and BeDazzlers. Even stranger, she's spending time with a boy who has never seen her tear it up in a pickup game.

To cope with the stress of faking her way through this new reality, Charlie seeks late-night refuge in her backyard, talking out her problems with Braden by the fence that separates them. But their Fence Chats can't solve Charlie's biggest problem: she's falling for Braden. Hard. She knows what it means to go for the win, but if spilling her secret means losing him for good, the stakes just got too high
Favorite character: Charlie (who else?)
Favorite
line
scene: The baseball game or when Braden asks them to raise their hands. Read it and you'll understand.
Quick review:
In case you haven't figured it out yet, I'm a Kasie West fan. Her books are good romances, usually with simple plots but great writing. I liked how characters from THE DISTANCE BETWEEN US kept popping up. It was a good boy-next-door romance. Usually they end up a little boring and unrealistic, but I enjoyed how this one played out. Plus it wasn't all about the guy, which was nice. It didn't have that extra bit to kick it up to 5 stars, but it was a great fast read.
Starred review: 4/5